The Best Color Management Training Options
Color management cannot be avoided. All design applications and print production (DFE/RIP) softwares are built around ICC color management, and though you may be able to run from it… you can't hide. Your options come down to either fully understanding how it works, ultimately saving you time and money, or getting burned by not knowing how to make corrections to color effectively, in turn costing you time/money. Every print manufacturing company, especially digital print, can and will benefit from having their employees properly trained in color. The various technologies used to control color can get complicated very quickly, and though many claim to understand the processes, very few actually do. So, I'd like to talk about the best options available for getting your business more knowledgable about color.
Introductory color management programs
1. The IDEAlliance Color Management Professional Program
The printing industry has had many associations and several of them have offered training or some sort of certification program to teach people color management. One of the longest running (and by far the most popular with over 25k people certified) is the IDEAlliance Color Management Professional (CMP) program.
This curriculum has only ever been delivered thru the internet. You pay to watch some learning content and then you pass an online exam to show you know the basics. There are several different levels for courses you can take, starting with "CMP Fundamentals". Beyond that they offer specific courses for different market segments – Digital Print, Offset Print, Creative, PreMedia and Sales Professional. They also offer a Master Program, which is a 4-course bundle of the Fundamentals, PreMedia, Digital and Offset courses. You can find more information about these program here: https://idealliance.org/color-management-professional/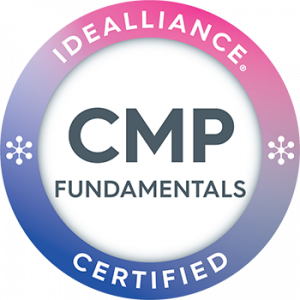 2. The SGIA Digital Color Professional Program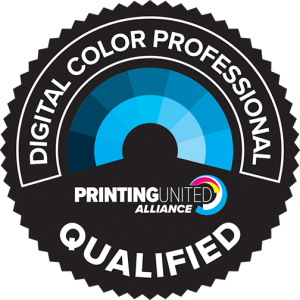 The (now former) Specialty Graphics Imaging Association (SGIA) also had a color management certification program called Digital Color Professional. While this program hasn't been around as long, it had a great curriculum with excellent content–I may be saying this with a certain amount of bias, having been involved with this program in helping to develop the content and curriculum, as well as being a Certified Instructor for going on 6 years.
Originally delivered in-person, this program was offered nationwide and were presented by Certified instructors, including myself. The program stayed current and constantly saw revision and updates that reflected the most up-to-date practices in color management.
Attendees got hands-on experience calibrating and profiling devices, learning about both ICC color management and process control best practices. In total, more than 700 people attended these color management "boot camps".
The DCP program contained 2 levels. Upon completion of a boot camp training, attendees could take/pass an online exam to become "Qualified" as a Digital Color Professional. After passing the exam attendees would be provided a color evaluation form and invited to print and submit the form for evaluation. The print submissions were measured and evaluated for specific criteria, and if the print passed, the person then achieved DCP "Certified" status. These boot camps became virtual, still delivered live, after the pandemic and are only recently started to be delivered in-person again.
CMP versus DCP
These two programs (Color Management Professional program and Digital Color Professional program) were, by far, the most popular workshop options, plus the best bang for your buck. In my (already stated as biased) opinion, the IDEAlliance's CMP programs offered courses for marketed segments, and fundamentals in multiple areas, but these courses were often dated.
In comparison the SGIA's DCP program offered a top notch curriculum, and provided everything printers, designers, and professionals seeking color management skills needed to know, delivered personally, with totally up-to-date information and hands-on learning environment.
Combining the best of the best
Many of you may already be aware that the top 3 printing industry organizations have all now merged. Initially, SGIA merged with the Printing Industries of America (PIA), which had previously merged with the Graphic Arts Technical Foundation (GATF) to form the PRINTING United Alliance (PUA). In 2021 IDEAlliance merged with PRINTING United Alliance.
With the newest merge, industry professionals will soon no longer have to decide between the CMP and DCP programs, as the two will be merging in 2022.
All of the content and curriculums from both color management programs will be combined and revised, creating full in-depth and interactive course. Current DCP Qualified professionals will automatically be grand-fathered into CMP status. We are very happy and proud to still be authorized to deliver the new curriculum and will be posting dates for new classes very soon.
IDEAlliance's G7 Expert/Professional Advanced Program
For advanced color management, IDEAlliance offers a G7 Expert and G7 Professional program. I would recommend that anyone interested in this training already have all of the fundamental knowledge as a pre-requisite. The G7 Expert/Professional training specifically addresses how to implement the G7 methodology and achieve conformance to the GRACoL specification.
The G7 Expert is authorized to do submissions into the IDEAlliance's Master Printer Program for any printing company. The G7 Professional goes thru the same training and passes the same exam as the G7 Expert, but can only do submissions into the Master Printer program for the company they work for.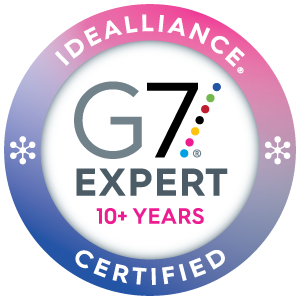 Custom color management training
The very best color management training you can get is customized to your business and your production hardware and software. Learning things theoretically is very important, but implementing what you've learned on your own equipment and understanding how it actually works is ultimately the end goal.
At Alder Color Solutions, we offer training and services both remotely (available in 1-hour blocks) and on-site. Our 2 DCP Certified Instructors and G7 Experts (from the very first class of G7 Experts in 2006) combined, have over 50 years of experience and expertise in every aspect of color management–from capture, through design, to any kind of print production. More information about the different services and solutions that Alder Color Solutions offers can be found here: https://aldertech.com/workflow-and-solutions/
As you can tell, there are many great options for you to choose from. Should you have further questions, please reach out to us via email [email protected] or by phone 503-226-7598