Alder Color Press Control
Professional yet affordable scanning spectrophotometer with software for offset presses up to 40″. Both remote and onsite installation include training for PrintMeasure software and ChromaChecker software. Onsite installation includes creation of G7 curves for coated and uncoated papers. Custom curves can be done remotely but are not included with remote installation.

Description
This bundle includes a Color Sentinel Systems Portable Handheld Reflection Spectrophotometer, a 29″ or 40″ manual slide track, and the PrintMeasure PRO software.
CSS110 is supported via Downloadable Android APP (Google Store) and PC APP (PrintMeasure). Includes L*a*b* compare against reference, Density and Dot gain measurements, as well as E-factor and corrective action from ChromaChecker.
World Class PrintMeasureTM PRO pressroom software shows print operators density, L*a*b* and dE metrics for all ink zones, with additional features like conformance reporting and trending.
PrintMeasure PRO has connectivity to ChromaChecker integrated, with the included ChromaChecker subscription you can simply login and all of your data is automatically uploaded to the cloud and can be accessed via the dashboard from any internet browser. This works in a 2-way fashion, where PrintMeasure sends data to CC and then retrieves data back for a very robust and high-tech solution.
A Windows PC and 50″ display and VESA wall mount are required but not included – recommendations available upon order.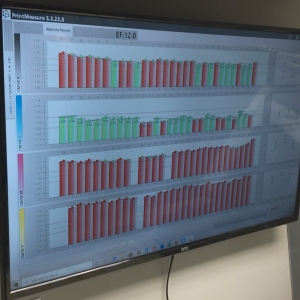 Additional information
| | |
| --- | --- |
| Choose Track Width | 29", 40" |
| Installation/Training | Remote (16 hours), Onsite (3 days) |
| ChromaChecker | Single Full Track (includes 5 paper tracks and all inspectors) |