The Best Spot Color Software
ChromaChecker Capture is the best spot color software that enables direct data capturing and automatic uploading to the cloud. Learn how and why in this blog by Dan Gillespie of Alder Color Solutions.
Product Spotlight – ChromaChecker Capture (Your Spot Color Swiss Army Knife)
I want to turn you on to a very powerful, easy to use, and inexpensive solution for what is a very common problem – defining, reproducing and comparing spot colors. You would think that there would be tons of options for doing everything Capture can do but that is not the case. Most people who are dealing with spot colors are using a color measurement device (spectrophotometer) that has a screen and computer built into it. The most popular instruments in this space are the X-Rite eXact (by far) and the Techkon SpectroDens. These instruments are very expensive, generally in the 8-12k range. When you purchase a far less expensive device, that doesn't have a screen and computer built into it, you need to connect the device to a computer running a supported software program. The most popular device in this space is the i1 Pro 2/3/3-Plus, generally in the 1,500-2+k range. The software that is included with this instrument is not full-featured when it comes to spot color functionality, mainly (IMO) because they (X-Rite) would much rather push customers to the much more expensive devices.
Today there are multiple less expensive instruments that are comparably as accurate, precise, and repeatable as the far more expensive devices – including the KonicaMinolta MYIRO-1, Nix Spectro 2, and previously mentioned X-Rite i1Pro 3. These instruments just need good software to be as good, if not better, solutions. That is what I'm going to illustrate.
Users need to be able to define colors, save those measurements, create palettes they can import into design apps, share these definitions with anyone else in the supply chain, and utilize these definitions to do QC. Printers need to be able to quickly and easily determine their specific capabilities in matching any given color on any given printer/ink set/media combination – and to the degree of accuracy in which they can match any color (DeltaE). Capture can calculate the DeltaE and provide the exact CMYK recipe in order to match any measured color or LAB value based on its ICC media profile. The vast majority of printing companies don't know how to do this today; most are printing variations of each color on each printer and visually trying to evaluate the color match not knowing whether or not they have any chance in matching the color. Obviously this is extremely inefficient and costly.
So, let's take a look at everything Capture can do. First, measuring individual colors. This could be for a designer trying to define a new color palette or a prepress or pressroom person measuring to compare to a target color for QC. When you first launch ChromaChecker Capture you'll be prompted to log into your account on ChromaChecker.com (or on a private branded instance like our alder.chromachecker.com) When you subscribe to Capture, you'll create an account you can access through an online dashboard. At this point you need to choose which spectrophotometer you have connected. ChromaChecker supports many including the devices listed in the screenshot here…
Enter your Organization Name then choose your device and click Connect
Enter your user Login and Password, then click the right arrow icon
Once the Capture software interface comes up, it may default to the Print Inspector. Click the purple icon next to the Print Inspector across the top to switch to Capture (QuikChecker).
Defining Colors
Now you're ready to measure. Click Calibrate to calibrate your device, then place it on the color you'd like to measure and either press the button on the device (if it has one) or click the Measure button in the software. The software will automatically give your color measurement a sample name (in this case Strong Blue #1) which can be changed and then saved into your Scratchpad on the left. Capture shows you the spectral curve (which is the main definition of the color, shown below in M0/D50/2º/White spec), as well as CIELab, LCH, a 2-D gamut plot, CMYK values (based on GRACoL Coated but can be changed), RGB values (based on sRGB but can also be changed) and HEX. From here you can click the CxF button to save the spectral definition as a CxF (Color Exchange Format) file. You could also click Assets to add this CxF definition to the ChromaChecker cloud (this requires the Color Inspector license, additionally).
Reproduce and visualize colors
Now that you have the spectral definition of the color, you may need to then reproduce (or try to match) it on a printing machine. You can generate a PDF Grid chart in L*a*b*, RGB or CMYK color space(s), 8-bit or 16-bit color depth, with Lab, RGB or CMYK sample descriptions under each patch, in different media sizes. Under Grid Distribution you can customize the amount and type of variation you want in each patch. Then download the PDF and print it.
In my example below I chose CMYK, which then presents you with a list of ICC Profiles (I have a long list that I've uploaded thru the ChromaChecker ICC Profile Inspector over time). I chose a Mimaki JV33 printer profile that used dye-sublimation inks on UltraFlex transfer paper. I also choose to have CMYK descriptions under each patch.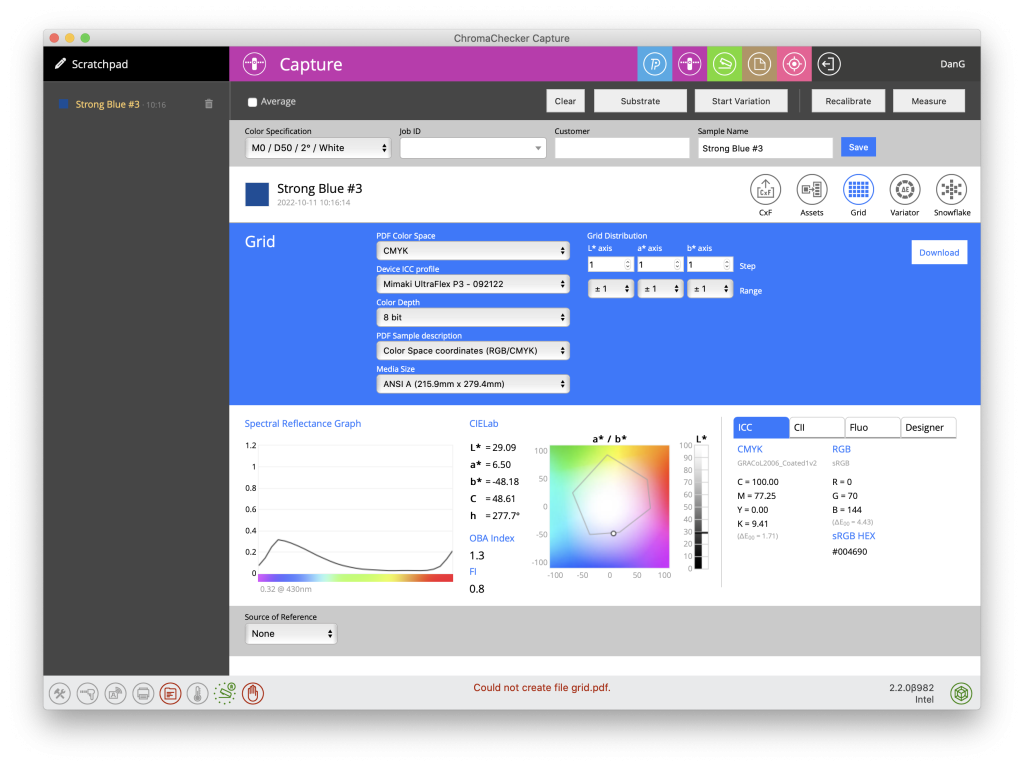 The resulting PDF Grid file looks like this…
You can use the Variator to see what DeltaE differences look like, visually.
The resulting PDF looks like this…
The Snowflake functionality enables you to further fine tune the color match by distributing the colors via L, a, b incrementally.
The resulting PDF looks like this…
Comparing colors
Capture enables you to compare colors easily. Choose the target color from the Scratchpad list. Then choose what you'd like to compare it to from the Source of Reference drop-down menu. You're able to choose from colors that have been saved to your Assets (in ChromaChecker dashboard in the cloud), colors you've measured into the Print Inspector (generally process colors), from the Scratchpad list right here in Capture, from a CMYK or nCLR ICC profile, or simply type in an L*a*b* value.
In the example below I'm using Capture to find the closest Pantone color by choosing Assets from the Source of Reference drop-down menu, then choosing the Pantone library (which I'd previously uploaded). Capture uses Autorecogntion by default to find the best match, which in this case was Pantone 4153 C at 3.0 DeltaE00. You can also see what density is best (if you measure the paper color), colorimetry values in LabCH for both sample color and reference color, and Delta values (shown below).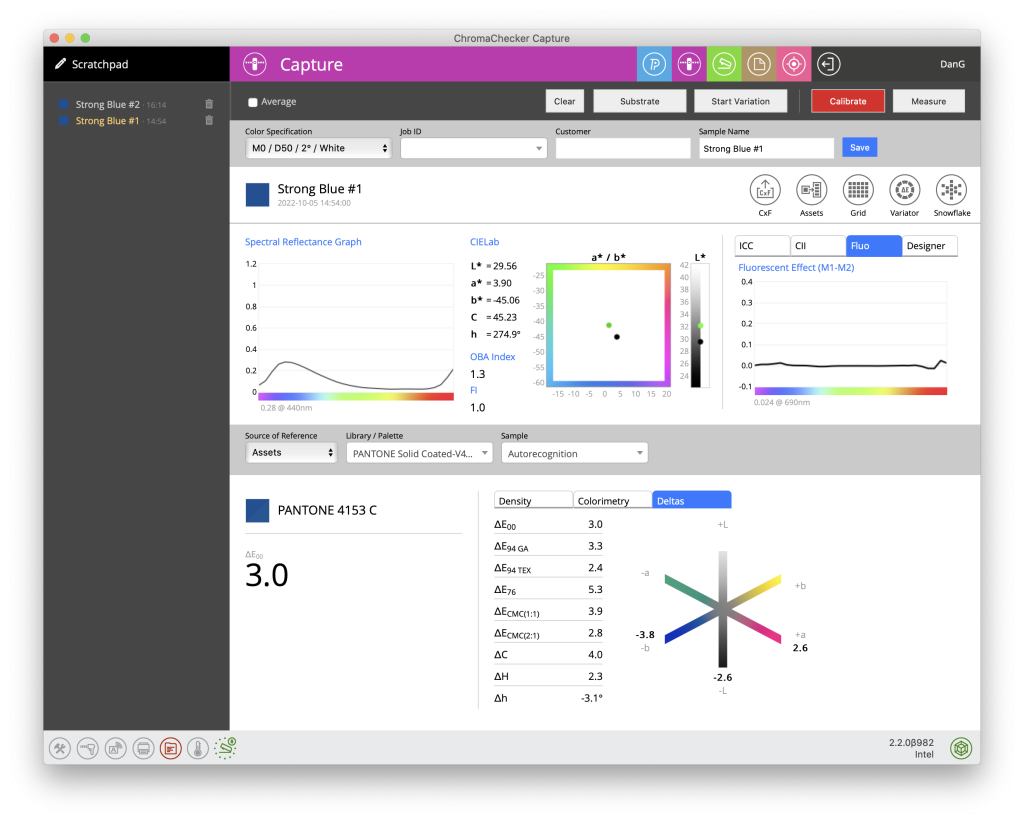 In this example I've chosen CMYK/nCLR from the Source of Reference menu. This enables me to then choose an ICC profile. I've already uploaded tons of device/media profiles into the ICC Inspector in ChromaChecker. I chose a Mimaki JV33 which was using dye-sublimation inks on UltraFlex transfer paper, sublimated to a poplin fabric. I want to see if this device/process is capable of matching my spot color. As you can see, it clearly CANNOT match my Strong Blue #4 spot color – by 9.5 DeltaE00. You can see the (predicted) sample color versus the reference color below. Do you or your employees have a quick and easy method for determining this? I'm betting you do not.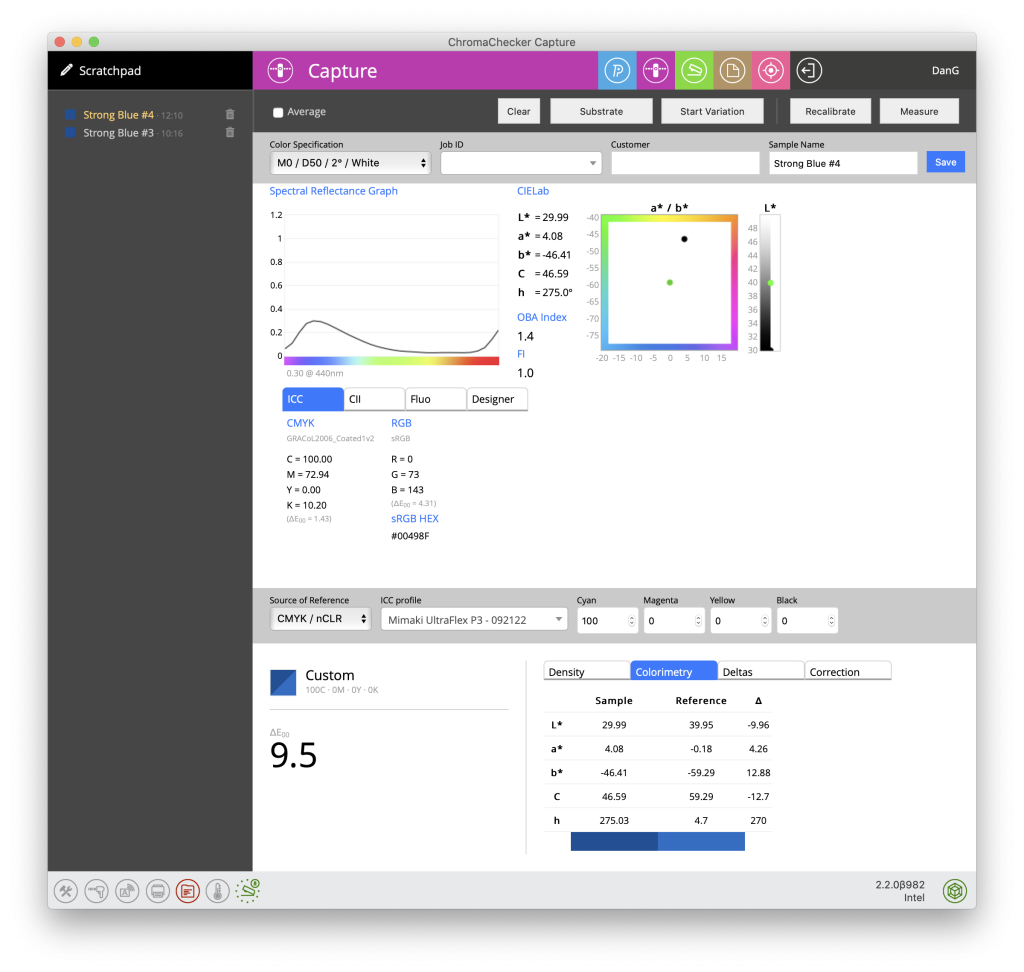 In summary the bottom line is ChromaChecker Capture is a very unique, inexpensive, powerful yet easy to use solution to solve very common problems that any/all designers or print manufacturers who deal with spot colors currently struggle with. So, not only can you not find a comparable product but Capture is plugged into the entire ChromaChecker platform in the cloud. This enables you to share any of this data with anyone, anywhere, in real time. Plus, ChromaChecker offers additional Inspectors (software modules) to grow into a full-blown enterprise level solution for process control and conformance of every aspect of the print manufacturing process – everything from automated monitor calibration to monitoring ink and water balance on an offset press. We at Alder Color Solutions are proud to be the chosen distributor for ChromaChecker and we have spent years becoming experts in order to support design through production in communicating color accurately, efficiently, objectively, digitally and properly.
For more information or to purchase ChromaChecker please visit our website HERE
If you need a spectrophotometer, you can find them here: KonicaMinolta MYIRO-1 | Nix Spectro 2 | X-Rite devices
If you'd like to contact me here's my info: Dan Gillespie – [email protected] – 717-475-9007