ChromaChecker Capture
A color scratch pad to allow operators to find the closest color to desired reference – Lab, another printed color, CMYK build, color library, color project (ColorCert), and more. Fast and friendly interface. As fast as possible to produce results – just install the software, pick up the instrument and start working today.

Description
ChromaChecker Capture is a color scratchpad that provides operators (Conventional or Digital Press operators) with an easy and fast interface to match colors using multiple reference choices such as another print, a given Lab value, a brand color from library or project, and even CMYK primaries.  Download CC Capture and check out the possibilities.
CC Capture can be used as a make ready tool only, if you decide that you want to track colors over time, per jobs, per customers then you may want to add a Print and/or Color Inspector tracking license in the future.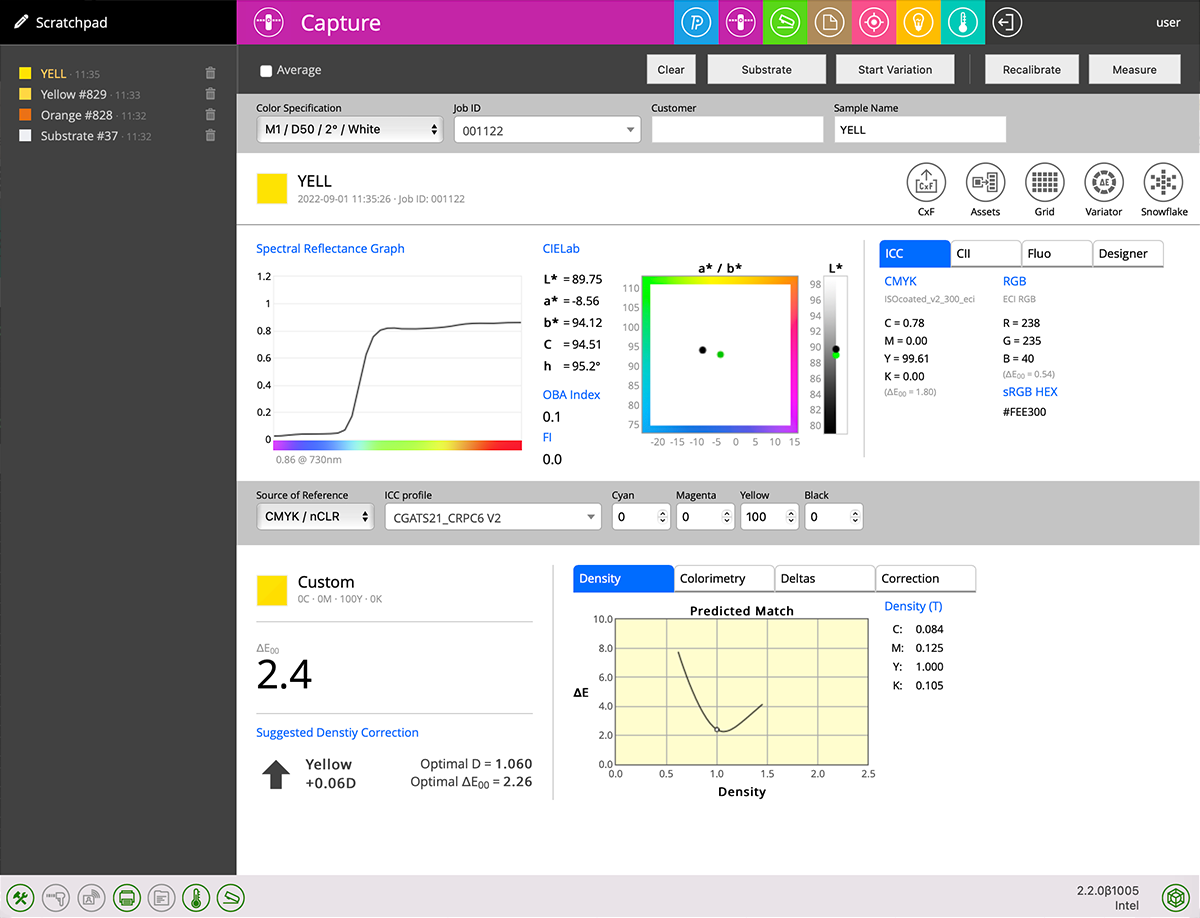 Conventional Press Usage and Benefits

Most flexo and offset presses that have hand held instrument do not use software. Using Capture with the hand held instrument will prove that it greatly improves the Operators functionality and awareness of how to match any process/spot color quickly and easily.

1. Software for Techkon Spectrodens, X-Rite Exact, X-Rite I1 Pro

Help press operator get the solids for process, overprints, spots and spot simulations to the right value quickly, If spot is out of gamut, software will show how far (∆E) out of gamut

Best match will estimate how to change density to get color to best match
Enter LAB value, let software predict density change to get best match
Calculate solids and overprints and spot simulations to any ICC Profile
Quickly make averages from colors on sheet
Calculate to any installed color library (PMS, Brand CXF, more)
Support for ColorCert Projects – Auto recognize best match

2. Quickly assess uniformity across the printed page, or between printing pages

3. Snowflake Tolerancing (multi-axis tolerancing)

ChromaChecker's Spot Color Variator shows how the same ∆E renders noticeable color differences which do not co-related to customer's expectations. Snowflake tolerance eliminates the noticeable color differences at the same ∆E to provide a uniform visual tolerance result.

4. Different dashboard designs depending upon the users skill and knowledge level (coming soon)

5. Accommodate different lighting conditions for match purposes (coming soon)

Digital Press Usage and Benefits

ChromaChecker Capture will justify having a measurement instrument at press side to ensure specific colors match expectations. Can work with $500 instruments for this purpose.

1. Match Brand / Spot colors quicker than ever

If you don't have ICC Profile for print condition: print GRID to help find the closest color without trial and error. This is for customers that do not have profiles for every substrate, hence, they can't use Virtual Spot to dial the color in quickly
If you do have ICC Profile – load ICC Profile in the CMYK/nChannel reference, and Capture will show what CMYK (+n) colors are necessary to match measurement.

2. Measure physical color, save as reference and then compare future renditions of this color against reference to prove color matching. Print QC Label to document match.

3. Measure a print and quickly compare to the desired Lab value and know if it is in tolerance. Print QC Label.

4. Use Variation tool to understand the variation in the print, or graphic to ensure quality is met.

5. Quickly build references (for either Color Inspector or Print Inspector) to use for future reprints of the given job.

6. Different dashboard designs depending upon the users skill and knowledge level (coming soon)
---
   
Snowflake Tolerancing (example)
Grid form (example)
Variator ∆E (example)
Simplified dashboard on our website with key configuration and work management options.