Can You Match Pantone Viva Magenta?
I used a cloud-based software from ChromaChecker to create the digital swatches, simply by typing in the Lab values…

Once I entered both colors I compared them to one another to see their difference…

Now I want to see if any of my printers can match these colors and what the best possible CMYK values are that I should use on those printers to do so – heads up, the CMYK values will always be different for different printers/medias because they're device-dependent. I can do this a couple of different ways. I can use the Virtual Spot Print functionality in ChromaChecker, which works by uploading the ICC media profile(s) (usually found in the RIP software) and then converting the spot color into this color space.

In the example above I'm using an ICC profile from an HP-800 on 3M IJ180 adhesive vinyl at 600 dpi and 8-pass mode. You see the original colors on the left and the predicted Lab and CMYK values on the right, as well as the Delta E (2000) on the far right. Zero Delta E would be identical (no difference/perfect), the higher the delta E the further out of gamut that color is. Seeing that both colors have EXTREMELY low dE (.11 and .02) I know for certain I can match these colors on this printing machine.
What I just showed you is awesome and the Delta E number is really all you need. But many right-brainers, like me, would like to visualize this. To do this, I simply export the colors to CxF format and drop them into a 3d gamut viewer like Chromix ColorThink – and then load the same ICC profile to compare to…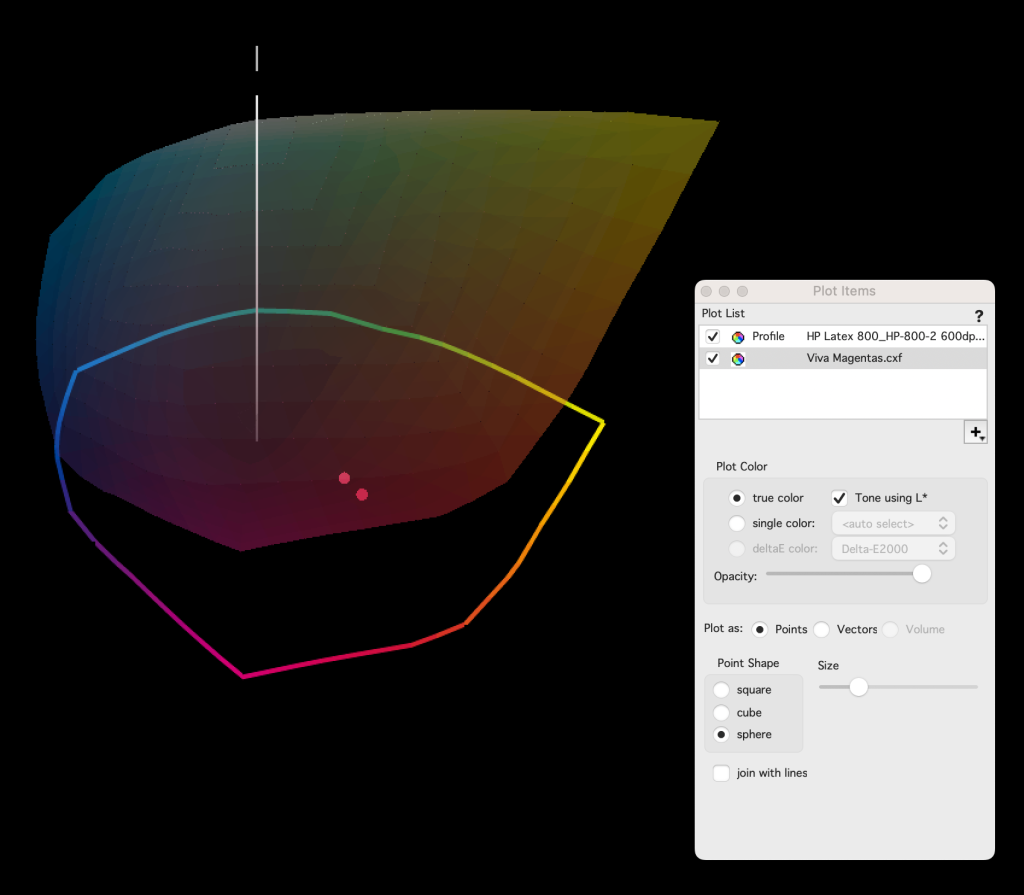 Here are the actual measured results. Not quite as tight/low on the DeltaE predictions but very good match!
So, the answer to the question is… Hell yeah I can match Viva Magenta(s)! And you can use this method to find out if you can match any given spot color. Give it a shot and let me know what you think.
If you would like a free trial of ChromaChecker to try this for yourself, you can register HERE. If you have any questions, don't hesitate to contact me.