Alder Color Solutions announces new strategic partnership with Fluid Color
New partnership combines certified color IT solutions with wide-format, digital UV inkjet print technologies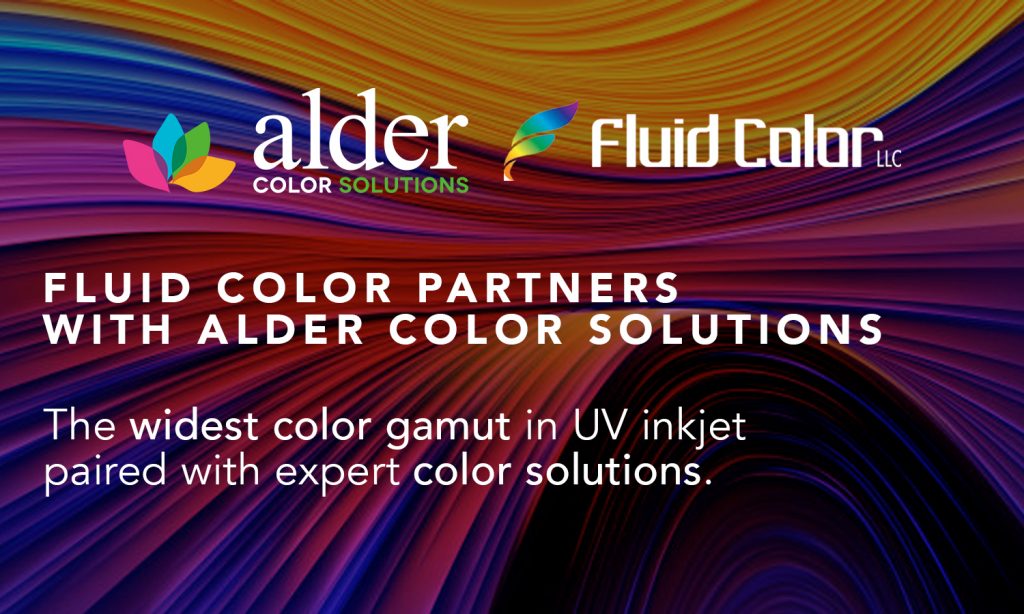 Portland, OR, April 21, 2021: Alder Color Solutions is pleased to announce its new partnership with Fluid Color as a premier strategic partner, providing certified color IT solutions to customers nationwide, with exclusive rights to market Fluid Color's wide-format, digital UV inkjet print technologies, and Kaleidoscope inks to the Western Seaboard.
"Fluid Color has a really unique position in that it's the only printer in its category that provides an upgradable path for customers," states Marty Davis, President of Alder Color Solutions. "For example, a user can start with a printer that has a limited number of printheads, and expand out as their business grows, without a forklift upgrade. Additionally, we are about to add Orange, Violet and Green to the ink set, which will blow away the current Color Gamut limitations. Exciting stuff."
Fluid Color offers a selection of high-quality printer configurations, including flatbed, hybrid and roll-to-roll, each equipped with UV-curable kaleidoscope inks, that deliver a superior color gamut and high-density color. With Alder Color Solutions' team of certified color experts, Fluid Color customers can expect high-quality print technologies paired with world-class color IT services.
"The relationship originally started with Great Western Ink and later turned to Alder Color Solutions," states Mark Crawford, Managing Partner at Fluid Color. "They know color. They know RIPs. They know the workflows. They can create a turnkey solution for a customer, where we just provide one portion of it. They can take that portion and turn it into a full solution."
Starting out as more of a color consultant service, Alder Color Solutions has expanded into a global color IT company, that offers customized proprietary solutions to businesses where color matters.
"We have expanded out to where we directly tie in color management, and RIP capabilities to a customers' output devices in order to reduce color issues," states Davis. "A key challenge for customers is the number of different print technologies used. For example, there may be offset presses, digital toner-based presses, wide-format, solvent wide-format…Through our Color Assurance program, we can take all output devices within a print facility, or across the world, and get them all aiming towards and producing the same color. Combine that with our predictive color artificial intelligence and you have a pretty power solution."