SpectroDens 4
The all-in-one handheld spectrodensitometer (densitometer and spectrophotometer)
for ultra-precise color measurement throughout your print workflow
Description
The Techkon SpectroDens is a user‐friendly handheld spectrodensitometer that combines both a highly accurate spectrophotometer and a fast densitometer.
All three SpectroDens models come with a 2‐year factory warranty, charging console with integrated white standard, 3mm aperture, AC adapter with universal plugs, device case, USB‐cable, SpectroConnect software, and manual with ISO 9000 certificate.
KEY FEATURES
QUICK MEASUREMENT OF PROCESS AND SPOT COLORS
The all-in-one SpectroDens 4 spectrodensitometer (combined color spectro photometer and color dens itometer) will help you control your process, spot, Pantone® or other critical brand
colors by measuring solid ink density, % dot area, CIE Lab, deltaE, and more.
BEST COLOR MATCH
InkCheck™ feature helps press operators minimize color
differences (deltaE's) by providing specific density adjustments to achieve best possible color match
ACHIEVE G7 COMPLIANCE
GrayGuide™ feature displays G7 pass/fail indication and
specific CMYK density adjustments to obtain grayscale values according to G7 specification
TRACK DENSITIES ACROSS SHEET
Shows density variation across press sheet and provides specific ink key adjustments right on the spectrodensitometer's display.
SCAN MEDIA WEDGE FOR QUICK PROOF VERIFICATION
Scan control wedge in seconds to confirm proofs against
12647-7 and known datasets like GRACol, SWOP3, SWOP5, IFRA, UGRA/FOGRA, G7™, and other alternatives.
DESKTOP SOFTWARE INCLUDED
Create, edit, and manage color libraries, import/export color
data, generate pass/fail QC reports, and manage instrument, all with SpectroConnect. (Optionally, you can license our ChromaQA color management suite and really kick some butt).
WIRELESS CONNECTIVITY
Uses true Wi-Fi to connect with your PC for faster communication speeds, enhanced security, and ultimate network connectivity and range
FAST APERTURE SWITCHING
Designed so you can change the measurement aperture yourself in a snap. Choose between 1.5mm or 3mm aperture settings depending on your color measurement requirements.
#1 FOR YOUR NEEDS
The SpectroDens 4 all-in-one spectrodensitometer is available in 3 different models to best meet your color measurement instrument needs (see model comparison tab under highlights above and pricing here). It is considered the de-facto standard by which all other color spectrophotometers and densitometers are measured and the best-in-class alternative to the clamshell design and even the new eXact™ 2 from X-Rite®.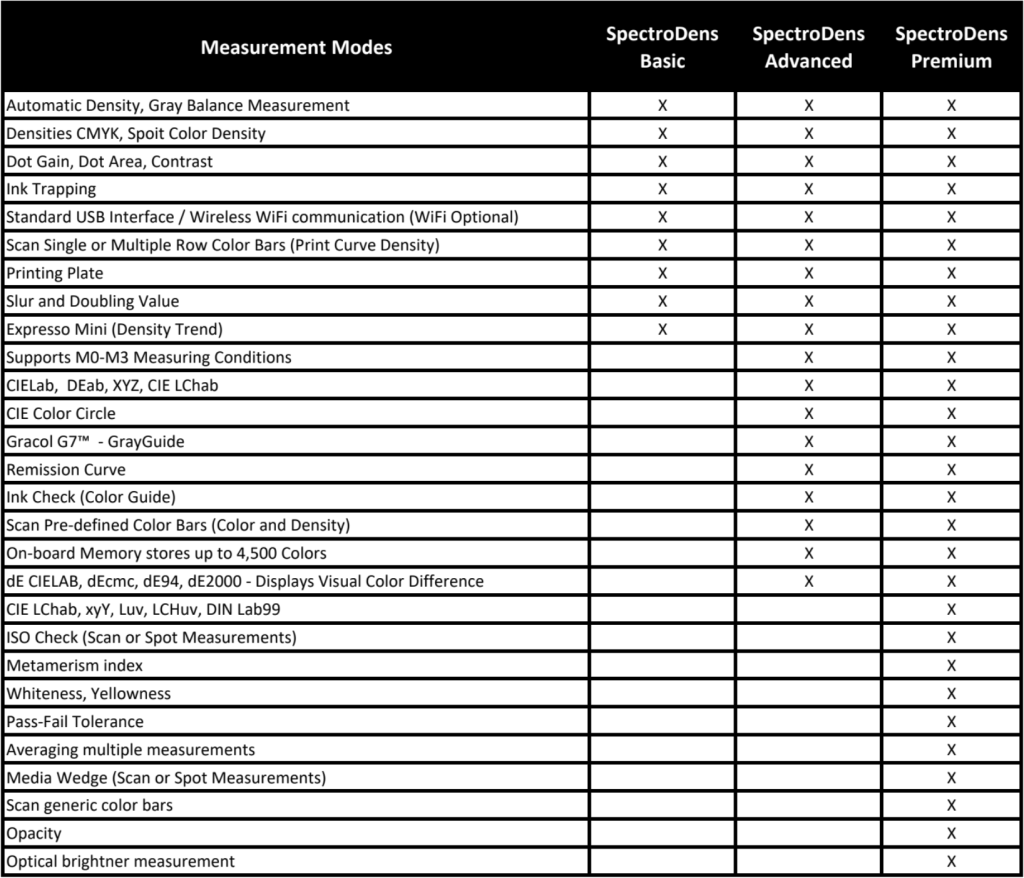 Additional information
| | |
| --- | --- |
| Choose Model | Basic, Advanced, Premium |